Tripawds is a user-supported community. Thank you for your support!
First, thanks to everyone who took the time to share their thoughts on my last post. I just needed some reassurance that I was doing the right thing for Smore and wasn't just being selfish and therefore blinded by the love I have for her. It's good to know that it doesnt seem to be the case.
So, as you all know, I was first owned by a Siberian husky named Pebbles. Today this post is about her and our terrifying experience today.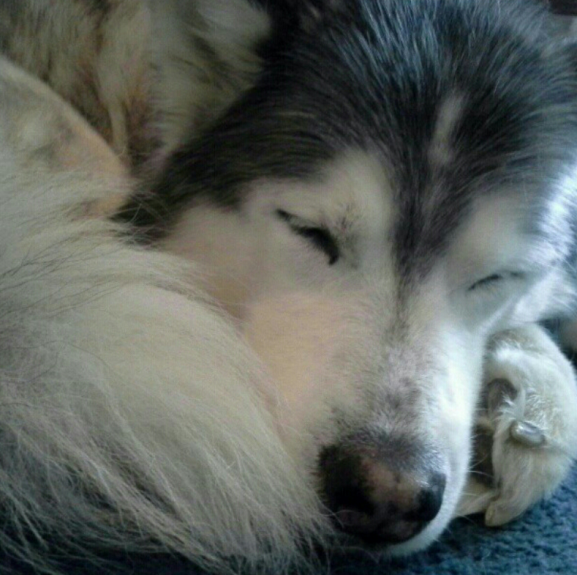 I have a large dog run outside for Pebbles because we have 40 acres and not a bit of it is fenced. She enjoys having the freedom to chose where she's going to go potty, but no fence +husky = bad idea. So we used the old extension panels (originally the panels made 3 kennels for each member of the rock pack) that were being used to make our normal fence taller because Pebbles and the pack were known for escaping. So now she has a nice area outside to go walk around in and explore while she does her business.
Today as she sniffed around the ground she came across a nest of ground nesting bees. I didn't realize there was a nest inside her pen. She backed away quickly and began shaking her head. Then she started sneezing and pawing at her face. I realized then she had been stung.
She made her way to the gate, then went back towards the nest, and then started screaming. I've never heard her make that sound.I ran to her and she was halfway down. By the time I got to her she was all the way down. Her breathing started to slow and I swear it stopped altogether at one point. her eyes remained opened and I lifted her head and brought her face to me. She was completely limp and unresponsive though. I was certain the life had left her completely. I was certain she had just died.
I started screaming her name.
Finally her head moved to the side. She looked like a dog waking up from anesthesia – or at least how I imagine it.Her movements were awkward and slow. She looked at me; Ive never been so relieved to see those baby blue eyes. it was like she had decided it wasn't time to go or she heard me and came back. I don't know.
She lied there for a while. I let her, too shocked to see her awake and responsive again and also wanting her to make the call as to when she felt comfortable getting up. The bee nest was about a foot maybe a foot and half away from where we were but thankfully none were interested in us. Some flies landed on her, so I moved her tail to see if she had pooped. I know it's common for people right after they die to release their bowels, and I know it's also common after seizures. She hadn't pooped, but she had peed. She doesn't like her tail (or any other part of her body) messed with, so of course she ended up standing up halfway. I put her leash on her just in case she decided to stumble towards the beesin her disoriented state.
She got up and went to the gate though. We came back inside with no problems. I immediately called my dad and started crying as I told him what happened. I'm in an incredibly rural area and had no idea where the emergency vet was or if they could do anything. I called my mom, but she didn't answer too and I called my previous vet because I know they have emergency hours. They told me there wasn't anything they could do over the phone though but to look for hives.
She has none; she doesn't appear to have a stinger in her either. The nearest ER vet according to my google skills is 1-2 hours away. My mom called me back, and by this time, Pebbles was acting relatively normal. She was breathing hard, but it's hot out. She was obsessively licking her butt too, but I know she had pee on her fur.
My mom didn't hear the part about being stung at first, so she assumed Pebbles had witness another seizure.
She had one long ago one day wheni was home alone with her. She started walking funny and her eyes were darting back and forth in her head. She ended up lying down and convulsing. When I took her to the vet, the doctor said it may have been due to vertigo. She hasn't had one since.
The two experiences were very different. In the first, she convulsed and her eyes darted back and forth. This time, she was in the process of lying down and was howling/screaming. I don't know if that was the actual convulsion because she was kind of going back and forth like she couldn't decide if she should lie down or get up. Or if that was just what she did to make that sound?i don't know. I also don't remember her stop breathing the first time.
Of course, when Pebbles goes into a deep sleep, she looks like she isn't breathing because her breaths are deep and far between. Perhaps that's what this was and I was too panicked to notice she was breathing?
At any rate, I know her breathing slowed down. I also know it did not take long because she was only unconcious for a few seconds. The whole ordeal probably took less than a minute from the screaming to looking at me with that disoriented, slow movement.
I ended up not taking her to the ER because she has trouble getting in and out of cars, and the last car ride we took she was stressed out and ended up pooping in the car. I was afraid I'd cause more harm than good. I'm definitely taking her to our vet on Monday though. I  just hope I didn't make a mistake in waiting.
I don't know if she had a seizure or if she had an allergic reaction. I would think an allergic reaction would not have fixed itself like this though. But I don't know if a seizure can be brought out by a bee sting.
I don't know what happened, but I'm worried about my girl. I thought I saw her take her last breaths today! I really, truly did. She wouldn't move. She seemed dead to me. She's been my best friend for 14 years, which is apparently surprising for a husky since everyone always comments about how they're shocked she's so old.
I just took her out and she peed. She came in and was interested in getting her treat, though she wasn't as energetic about it until I walked out of the kitchen with it so she wouldn't fall on the hardwood floor. She's drinking water now. She's pretty much slept the rest of the evening, which isn't unusual for her at all. She was alert when I checked on her everytime but once. She was in a deep sleep, the kind where she usually dreams.
She's alert and keeps giving me this look like "what do you want now, Mom?" whenever I look over at her. She's been drinking water and eating her treats. She's able to walk around as well. I swear this has been the longest weekend. I'm waiting for test results to see if I get certified in Spanish and therefore keep my job, and now this.
WHY  CAN'T IT BE MONDAY ALREADY?!
So yeah. That was our day. I called my dad the instant we came in at 5:06. So I'm guessing it happened sometime before 5. I really don't think it all took long even though it felt like forever. It's now 11:15 and aside from my own memory, there's no evidence that anything happened.
Hopefully, she'll be okay and we can see the vet first thing Monday morning. Until then, I'll be keeping her out of the pen until I can get rid of those bees. And I'll continue to keep a watchful eye on her.